North Highlands Sprinkler Repair Specialists

You're looking for a new sprinkler repair company in North Highlands.
We're a sprinkler repair company in North Highlands. That's a great start! Let's get right to what you want to know.
We're available Monday-Friday 8am-5pm. We also schedule weekend services and after hours repairs if necessary.
We are fully licensed and insured to California standards.
We have over 10 years of experience in sprinkler repair.
We have plenty of references in the local area.
We will save you money on your monthly irrigation bill.
Let Our Irrigation Contractors Maintain Your System

You've made it past the list. Good. Now we can talk about what sets us apart from all the other sprinkler repair services in North Highlands.
We have multiple trucks on-site and ready to go.
Every lead sprinkler repair tech has at least 5 years of individual experience (apprentices accompany skilled tradesmen).
Our trucks are stocked with thousands of replacement parts, so we don't have to run back to the warehouse to complete a job.
We respect you and your property. We will do as much non-invasive work as possible to get your system back online.
We use high-quality replacement parts directly from the manufacturers.
"This is, by all accounts, the highest recommendation I can make. After trying to get somebody to work on my irrigation system, I finally came across these guys. From the moment they answered the phone, they were nothing less than friendly, knowledgeable, and ready to help. They completed the work as we discussed and did not cost a fortune. I've had other companies in the past and the entire process was painful. This on the other hand was a great experience. I'll use them from now on, no question."
- Jeremy H.

Professional North Highlands Sprinkler Repair Contractors Are Here To Help You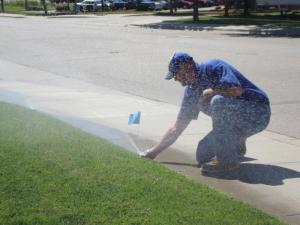 When you choose us as your sprinkler repair contractors, we'll make sure you get professional service from the initial phone call, through the repair and beyond. There will always be an open line of communication between our office and you. If you need to change a service appointment, no problem. If an unforeseen event forces us to reschedule, we'll give you at least 24 hours notice (usually at least 48hrs). We know your time is valuable. We're not cable installers; we don't do 4 hour windows. You'll get a set arrival time, and we'll be there.
In addition to sprinkler repairs, we are a full irrigation installation service. We can design new systems from scratch or develop solutions to expand existing systems. We work with all the major brands, including Toro, Weathermatic, Rain Bird, Hunter and more.
We do drip line irrigation, mini spray valves, rotors and temporary irrigation for both residential and commercial clients. Whether you need a full campus system or just want to add a drip system to your vegetable garden – no job is too big or small for our sprinkler installation team.
---
Effective Maintenance Plans With Our Irrigation Repair Services

Are you looking for a new irrigation maintenance team? We have several maintenance plans that will keep your lawn looking great and your watering bills looking low. Our basic maintenance package includes spring and fall services to check:
Controller programming
Rain sensor calibration
Valve condition
Sprinkler head performance
Water supply and pressure
Pipes and fittings
We also have plans that include fertilization and blowout services and monthly controller and sensor checks.
Call our expert North Highlands sprinkler repair specialists. We look forward to creating the perfect no-hassle irrigation system for your home.