We Deliver Expert North Highlands Sprinkler Repairs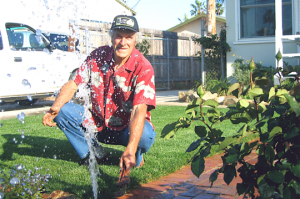 North Highlands sprinkler repair is a locally owned, family oriented business. We've been helping people create and maintain beautiful landscapes for over 10 years and have over 75 years of combined irrigation repair experience. Our dedication to customer service is evident in all areas of our business. From the first time you'll call, you'll notice the difference. You aren't a number or an inconvenience - you're the reason we exist. We treat you like one of the family – except we won't make you eat Aunt Phyllis's lentil cake.
The meat of our service has always been doing minor repair work on residential irrigation systems. We switch out risers and replace sprinkler heads almost every day. But we do more than that, we also show you exactly what happened that necessitated the repair. It's usually something as simple as a lawn mower blade that is set too high or low. What's important to us is that you get the best lawn irrigation at the most affordable price. So, if there is a way to prevent future problems, we're going to show you.

Our North Highlands Sprinkler Repair Team Doesn't Mince Words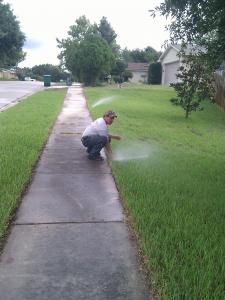 One of the most important things that we do for our customers is set up a locally optimized controller setting. This means setting your sprinklers to run in the morning, before 7 am, from March to October. Irrigating before the sun is high in sky allows your lawn to soak up the water before it starts to evaporate in the midday sun. We set most systems to irrigate every 3 days. If you happen to have water hungry plants, we can set different zones in your system to run more often.
If you have questions about our service, there is no one better to answer them than our clients. Take a look at our Yelp page or contact us, and we'll put you in contact with a few of our most recent jobs. That way, you can ask them the hard questions and get honest answers. I mean, we could answer your questions, but would you really take those answers seriously? Now, for questions about how long a repair will take, what might have caused the problem, or how much it is going to cost, by all means ask us. The better informed you are, the better customer you will be.

Pick up the phone and give us a call. There's no obligation, we aren't going to try to sell you anything. If you need us, we'll be here to help you take your lawn to the next level.